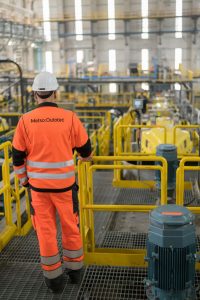 Metso Outotec has been selected to deliver dewatering, flotation and automation equipment for the processing plant expansion project at Nornickel's Talnakh project in Norilsk, Russia.
While the value of the additions was not released, the scope of the delivery includes the modernization of three existing thickeners and the delivery of over 100 TankCell flotation machines and an automation system for the new line 3 flotation area.
The contract also includes a spare parts and consumables supply, along with Metso's metallurgical performance guarantee and advisory services for installation and commissioning.
The delivery is scheduled for 2022-2023, and Metso Outotec said the order was booked in its orders for Q2 and Q3 2021 under the minerals business.
"The supply of leading-edge equipment from Metso Outotec for the existing line 2 and the new line 3 flotation section at the Talnakh concentrator will enable an increase in the amount of ore processed," said Metso Outotec Minerals Business President Markku Teräsvasara.
"We have collaborated with Nornickel on several projects to boost the throughput rates of their processing facilities; Metso Outotec has previously supplied comminution and ore processing solutions and equipment for the Talnakh Concentrator lines 1 and 2."
Sergey Dubovitsky, senior vice president of strategy, strategic projects, logistics & procurement at Nornickel, added: "The new equipment supply contract plays a crucial role for our expansion project – Talnakh Concentrator Line 3, which is a key step to deliver our strategy of sustainably producing metals required for the world economy to go greener."
Source: Metso Outotec