Australian space company Fleet Space Technologies has unveiled three new innovative features to its mineral exploration technology ExoSphere by Fleet – which is said are each purpose-built to enhance the agility and accuracy of data-driven exploration efforts worldwide.
For all in-progress or future surveys, the company said, its exploration customers will be able to download several new data intelligence assets on demand from the ExoSphere platform for greater insights on metrics like ambient noise conditions, data quality and confidence levels across different parts of 3D models.
Leveraging Fleet's constellation of low Earth orbit satellites and the latest advances in passive seismic array technology, ExoSphere has rapidly disrupted the mineral exploration industry by reducing the time it takes to receive an actionable 3D model of a survey area from months or years to a matter of days – with near-zero environmental impact.
Over 30 global exploration companies, it noted, have already used the technology to conduct surveys across commodity types and on five continents, including Rio Tinto, Barrick Gold and Core Lithium.
Traditionally, data acquisition and geophysical survey processing can take years or months to be leveraged as part of an exploration campaign, making it hard for field teams to make quick operational decisions on-site and hone in on new waves of discoveries. As global demand for critical minerals intensifies, advances at the intersection of space technology and geophysics are helping the exploration industry to become more data-driven and agile in a rapidly changing landscape.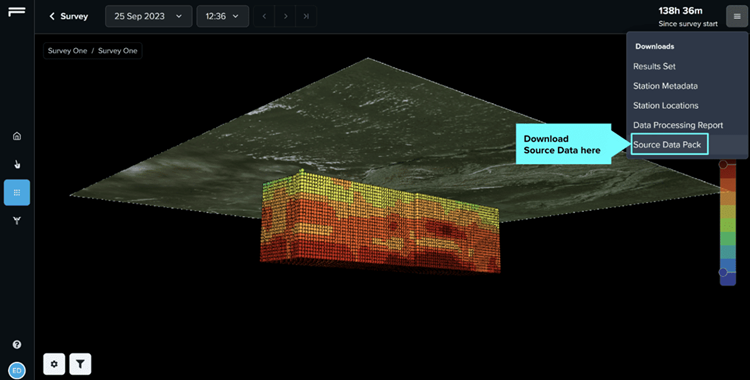 Actionable subsurface insight on demand
Fleet brings together the benefits of satellite connectivity, remote geophysical data acquisition, and near real-time data processing to deliver actionable 3D models of the Earth's subsurface for customers around the world. With today's announcement, Fleet has added several new features to its ExoSphere platform which include the Sensitivity Model, Data Processing Report, and Source Data Pack.
Customers can now access a Sensitivity Model to help them visualize and quantify confidence levels for every 3D model that is generated. This will provide customers with a relative indicator of the likely resolution and quality across different parts of the model, highlighting areas on a spectrum from higher to lower confidence. Ultimately, the Sensitivity Model will give customers an enhanced view into the confidence levels about potential subsurface findings in addition to areas of the model that would benefit from further surveying.
Featuring 14 technical charts, data processing parameters, and an explanatory narrative, the Data Processing Report is designed to give customers enhanced insight about the ambient noise conditions of the survey, data quality, and the steps taken to generate their 3D model.
Edge-processed data from the passive seismic sensors, called Geodes, used within a customer's survey area will be downloadable on-demand from the ExoSphere platform as a Source Data Pack. This will enable customers to re-process the data using different geophysical tools or update their existing 3D velocity model with additional insights they unlock as part of their exploration efforts in the future.
"Space-enabled technologies in the field today will profoundly shape the future of mineral exploration," added Hemant Chaurasia, chief product officer, Fleet. "With over 150 ExoSphere surveys completed across five continents – it's clear that near-real time access to 3D velocity models, combined with these new ExoSphere features announced today, are unlocking new data-driven approaches that reduce the time, resources, and trial-and-error needed to build valuable subsurface insight and accelerate mineral discovery. This will be critical for the mineral exploration industry as we work towards the renewable energy future that our world so desperately needs."
Source: Fleet Space Technologies