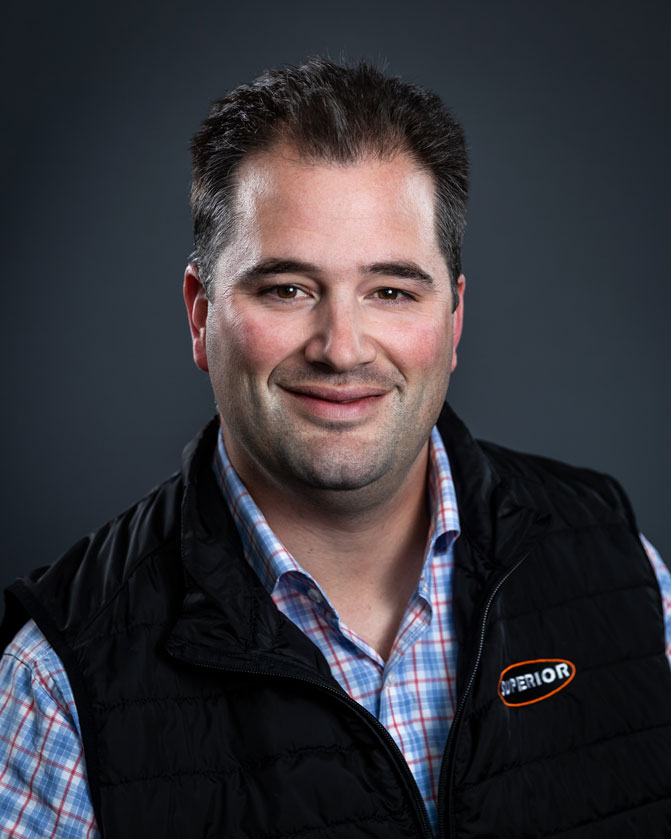 Morris, Minn.-based Superior Industries Inc. – on a multi-year growth trajectory – has greatly expanded its market presence, introducing a series of new or improved products; adding a number of respected industry professionals to its team; and expanding its dealer network.
Leadership has much to do with the company's recent success trajectory. Jarrod Felton, a senior vice president, helps to drive the company's mission of creating innovation and opportunity.
"Up until the 2010s we were a 'uni-tasker' manufacturing conveyors," Felton said. "The discussion driving us forward became, how can we create opportunity for those around us: people in our communities, our customers, the industry that we serve. And ultimately that turned into a focus on those who toil between rock face and loadout; and amazing discussions around crushers and screens, washing systems, platforms and delivery methods. Technology and automation. Then the Internet of Things. I mean just really great discussions about what could be done in the future."
Those discussions certainly created an evolution for the privately-owned company. Superior's core conveying products and components business is now about a third of its total business, versus two-thirds for other product lines, according to Felton.
Just a few of its recent product developments include:
TeleStacker Conveyors now include the world's largest telescopic radial stacker in its portfolio of models. The first 48-in. wide by 210-ft.-long unit will be capable of building a single 425,000-ton stockpile for a customer in Florida.
Fusion Platforms are a new series of pre-engineered, modular plants that allow for earlier commissioning, incorporate into existing plants and utilize creative packaging to limit the number of trucks needed for transportation.
Application-Specific Idler Bearing Seals for greater protection in applications known to expose bearings to fugitive material prematurely.
Sentry Horizontal Shaft Impact crushers include 15 unique models to accommodate production up to 1,000 tons per hour and maximum material feed size of 40-in.
Alliance Low Water Washers turns crusher dust into profitable manufactured sand. Using significantly less water than a standard screw, the first of its kind machine accepts a dry feed directly from the crushing circuit.
Anthem Inclined Screens are designed with bottle jack lifting points to eliminate the requirement for cranes or loaders during spring maintenance or replacement.
Patriot Cone Crushers, which are available in 200- to 600-hp models, feature Superior's in-house designed and supported Vantage Automation, which monitors and controls crusher parameters.
Spirit Sand Plants merge the manufacturer's Helix cyclone, dewatering screen, sump tank and slurry pump into a single plant capable of sand production, fines recovery and dewatering.
Exterra SFL Dual Belt Cleaners are a one-of-a-kind conveyor belt cleaning solution with a primary and secondary scraper sharing one mounting pole. This allows for quick, uncomplicated installation. Tension is set just once – at installation – and automatically maintained for the life of the blade.
Major League baseball teams often sign top-level free agents to bolster their line-up, and Superior has adopted that strategy as well. The company has recruited a number of well-known industry professionals, bringing it expanded talent, expertise, knowledge and experience. Included in this group are industry veterans such as Matt Voigt, John Bennington, John Garrison, Jason Adams, Doug Lambert, John Rodriguez, Mark Crooks, Ed Sauser, Jeff Gray and Brett Casanova.
"There's a commonality to pretty much every free agent that we signed in the last number of years," Felton said. "To build that vision, experience was brought in from people with a unique perspective and a wealth of understanding and knowledge. All these guys came in with their best ideas, with no egos or politics at play as often occurs in a large corporate environment. We simply sorted through the best ideas and then implemented them to the benefit of Superior."
Superior's dealer network certainly helps drive its success equation. And the company is still building that network to bolster its industry presence.
"We've always had a very, very strong network of conveyor dealers," Felton said. "When it comes to other product lines, many have their own relationships with other crushing, vibratory and washing manufacturers. We're not the type to give ultimatums, we'll leave that to the big corporate companies. We just say our goal is to make great products and create great partnerships. We have some more room to grow. We've got some more territories that are not completely covered, not full line but we're 80% of the way there in North America."
The future will not be without its speed bumps. Like many other manufacturers, labor, the availability of steel and a sluggish supply chain present logistical challenges to manufacturing.
"It's been really difficult," Felton said. "I think we've experienced the same volatility that everyone else has experienced but I give a lot of credit to our team. We have really hard-working people who have redoubled their efforts. They're just digging in at all levels to make sure that our customers are taken care of. We also try to communicate to our customers about any of those delays or the downstream impact as quickly as we know about it. Just to make sure that we're staying close to our customers and the end users. We're all on the same side of the issue. And it's a global issue."
With monies from the Infrastructure Investment and Jobs Act beginning to flow to the states now, and ConExpo-Con/Agg on tap for 2023, Felton sees nothing but positive signs for the company's future.
"Right now Superior has a historic backlog of orders," Felton said. "We also have a number of new concepts in research and development. We've been blessed with really good partners, and customers who understand what's going on.
"ConExpo-Con/Agg could be the best one ever," he said. "For us, I think it'll be the biggest and best selection of new technology that we've ever displayed and we've had a lot in the last six years. It's going to be very interesting on multiple levels. If you can take advantage of your opportunities and perform, it will be rewarded with more opportunities."
Superior is now very well-positioned to take complete advantage of those opportunities.