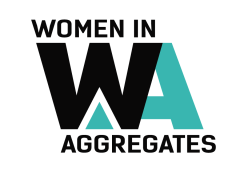 SEMCO Publishing – parent company of Rock Products, Cement Products, Concrete Products, The ASIA Miner and North American Mining magazines – has launched Women in Aggregates, womeninaggregates.com, a group dedicated to supporting women working in the aggregates industry.
The initiative follows the efforts of similar groups such as Women in Mining, Women in Construction and Women of Asphalt.
The Mission Statement of the group is, "To create a supportive space for women that fosters leadership growth, networking opportunities and advocacy of the aggregate industry."
"We are proud to be the organization backing the formation of this important group," said Peter Johnson, president of SEMCO Publishing. "It is our hope that by organizing this group, women working in the aggregates industry will have a place to give voice to the concerns and topics that impact them in the work environment."
The organizational director of Women in Aggregates will be North American Mining's Managing Editor Josephine Patterson, an 11-year industry veteran. "This effort grew out of discussions I have had with other women working in the aggregates industry, and we are proud to see this group come to fruition," Patterson said.
Women in Aggregates is open to any woman working in, or working in support of, the aggregates industry, including producers, manufacturers, distributors; and marketing, advertising or public relations professionals.
Women interested in the new organization can go to womeninaggregates.com to join the mailing list and stay apprised of future developments, meetings, events – including a cocktail reception at ConExpo-Con/Agg 2023 – and other communications from the group.