OEM Sandvik Mining and Rock Solutions has unveiled its second technology demonstrator for its future autonomous mining vision, the full autonomous AutoMine Concept Underground Drill.
The twin-boom development drill rig is capable of drilling without human interaction. The cabinless battery-electric drill can plan and execute the entire drilling cycle from tramming to the face, setting up for drilling, drilling the pattern and returning home to charge for the next cycle.
The introduction of the new unit is just two years after Sandvik introduced the AutoMine Concept Loader, the first fully autonomous underground mining machine built specifically for automation. It was first seen by and demonstrated for the public late last month at a customer event in Sandvik's Tampere, Finland, facility.
"We're continuing to push the boundaries of mining automation and demonstrate what will be the reality in the near future," said David Hallett, vice president, Automation at Sandvik Mining and Rock Solutions. "We chose a development drill as our next concept vehicle to demonstrate that autonomy can also work effectively in a mine's development phase, in constantly changing environments."
Sandvik officials said that, up until that introduction, the AutoMine Concept Underground Drill was referred to internally only as "Amelia" and can now showcase its next-generation intelligent automation and other new technologies and features – some that will be available as standalone products and others as upgrades or options for existing products or equipment.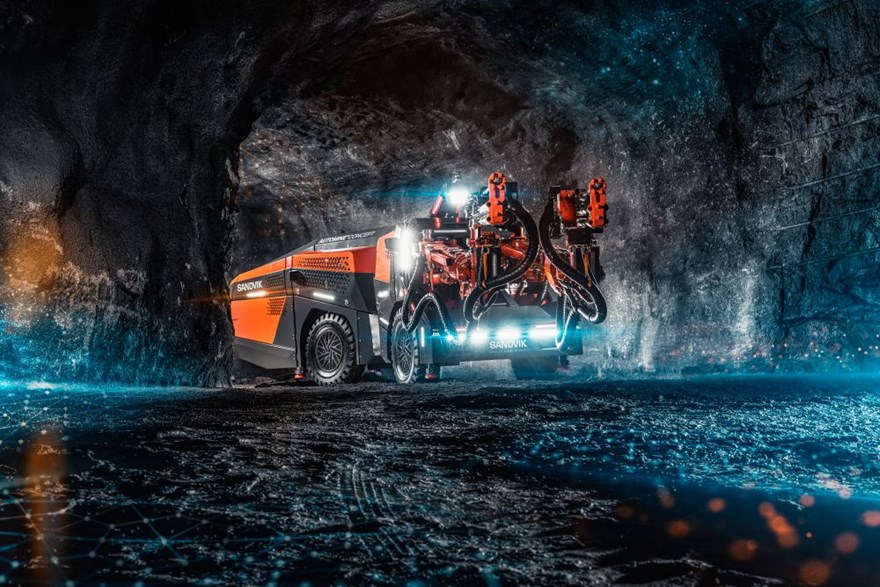 "Our AutoMine Concept Underground Drill is not intended to be introduced as a commercial product," said Johannes Välivaara, vice president, Product Development and Product Management at Sandvik Mining and Rock Solutions. "Rather, it will become our in-house platform for testing and developing new technologies our customers identify as crucial to their operations."
The OEM said the concept drill needs only to know which tunnel and face it should tram to and can plan the rest of its mission autonomously, using data from the preferred mine planning software. Tunnel lines and profiles are planned and defined into drilling and blasting patterns in iSURE that ensure optimal hole placement, detonation and profile quality.
The drill also has access to 3D models of a site, which are automatically merged from survey and mapping results. It can update and optimize the 3D model of the mine in real time based on feedback from its onboard cameras and scanners.
The drill learns and adapts to the ever-changing environment in a development heading to safely complete entire missions from entry to exit. It navigates tight spaces with agility, enabling effective use of large machines in small spaces. Once it has arrived at its destination, it uses automatic drill plan adjustment to optimize the drilling pattern and drill the full round.
During drilling, it uses an AI-guided automatic drill bit changer to identify when bits are worn and changes them automatically. The drill is also equipped with a lifter tube installer that simplifies the face charging procedure. Drilling data is then reported back to iSURE or Deswik to optimize the next round.
The drill also uses Rock Pulse AI for continuous rock mass feedback to optimize drilling performance.
"Our vision is that in the near future, thanks to the rapid advancement of battery technologies, equipment like this will be able to drill entire rounds fully on battery power, eliminating the need to plug in to a grid and improving flexibility underground," said Jussi Puura, Digitalization Research Lead at Sandvik Mining and Rock Solutions.
Source: Sandvik