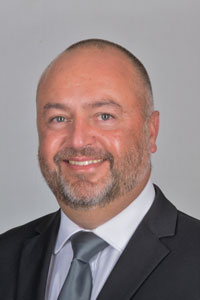 Underground mining contractor Murray & Roberts Cementation has named Japie du Plessis as its managing director designate, effective 1 March.
Du Plessis is succeeding current managing director Mike Wells, who is retiring at the end of February 2023.
Wells, a 39-year mining veteran, first joined Cementation Africa in 1994, a company which was subsequently acquired by Murray & Roberts in 2005 and merged with its existing mining contracting arm, RUC, to form Murray & Roberts Cementation.
"His move to Cementation brought him into project work and in particular the sinking of the 3-km-deep, 9-m diameter twin shafts of the South Deep gold mine, representing at the time the biggest shaft sinking contract ever let anywhere in the world," the company said. "The project extended over nine years from start to finish, with Wells acting as project manager for part of this period, which he regards as one of the highlights of his career."
Wells was appointed managing director of Murray & Roberts Cementation in 2017.
Murray & Roberts Cementation said it found a successor to Wells in du Plessis with a similar depth of technical and management expertise. A mechanical engineer, he has spent most of his career in mining.
"His first assignment after graduating was at Anglo American Platinum's Amandebult mine, where he worked his way up to the position of section engineer. He then left for a two-year stint with a sugar company in Mpumalanga before joining Murray & Roberts Cementation in 2008. He has been with the company ever since," the company said.
Du Plessis was selected by a panel within Murray & Roberts Cementation that considered both external and internal candidates.
Looking ahead, du Plessis says one of his prime objectives will be to extend the company's African footprint as the majority of its work is currently in South Africa (although it does have raise boring contracts in progress in Zambia, Tanzania and Burkina Faso). He will also work to ensure that it stays at the forefront of the move by the mining industry towards 'green' mining, digitalisation and automation.
Murray & Roberts Cementation is the African arm of Murray & Roberts global mining platform, which also includes operations in the Americas and Australia. The platform is headed by Mike da Costa, who is based in Perth, Australia.
Source: Murray & Roberts Cementation