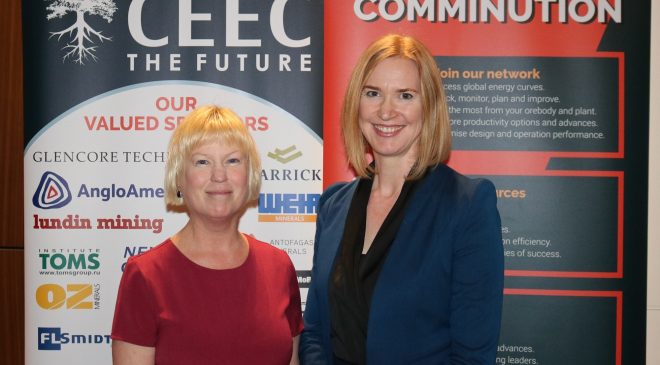 The Coalition for Eco Efficient Comminution (CEEC) has announced its CEO, Alison Keogh, is stepping down from the role after six years in the position, with Marc Allen also replacing Michael Battersby by taking over as the group's chair.
CEEC said Janine Herzig is also joining CEEC as executive president and board director; it noted that it will be making an announcement shortly about the appointment of additional operational staff and directors.
For Keogh's part, the group called her an "early mover" and stressed that, in addition to sharing critical knowledge on installing renewables and progressing net zero emissions approaches, she was able to grow the group's global reach.
She also initiated CEEC's first workshop on Water Curves in North America and helped raise awareness of how important comminution and processing are to reduce energy, emissions and water footprint across mining worldwide.
More recently, she steered CEEC through the global pandemic and oversaw the organization's 10-year anniversary milestone in 2021.
"I am honoured to have led CEEC, which helps industry share practical solutions and innovative advances that are so important for the sustainable minerals needed for our world's future," said Keogh.
"Collaboration is vital to accelerate the world's transition to net zero emissions. CEEC brings leaders and innovators together to share knowledge of cutting-edge processing to reduce mining's footprint. I look forward to CEEC's next chapter led by Marc Allen and Janine Herzig and encourage visionary leaders to contribute to this inspirational and global group."
CEEC's board of directors has undertaken a strategic review to consider the ever increasing environmental, social and governance (ESG) requirements of the resources sector. The outcome of this analysis is that CEEC has created the role of executive president, which has been seated with Herzig.
A director of MetVal Consulting, convenor of the MetPlant Conference Series, former non-executive director of Base Resources and former director and immediate past president of the Australasian Institute of Mining and Metallurgy (AusIMM), she has over 30 years' experience in the resources sector, across multiple commodities.
"I am delighted to assume this comprehensive leadership role with CEEC, having been a CEEC advocate for the past two years," said Herzig. "It allows me to combine my passions for mineral processing, ESG initiatives, technical excellence and giving back to an industry that I love."
The CEEC board has additionally appointed Marc Allen as chair of CEEC, taking over from Michael Battersby. Allen, an energy and emissions expert who joined the CEEC board as a director in 2019 serves as technical director at Singapore-based consultancy engeco. He has over 20 years' experience in a variety of operational and consulting roles with INPEX, Energetics, Simulus and BOC and his experience has focused on sustainability, process engineering, carbon management and energy efficiency.
Allen commented: "I have been involved with CEEC since 2018 and am very much looking forward to fulfilling the role of chair and working to continue our mission to maximize energy efficiency across the minerals processing industry. I'm appreciative of the leadership shown by both Joe Pease and Michael Battersby during my time at CEEC so far and hope to continue to work with them closely while they remain on the board."
Source: ceec.org